10 Canopy Structures to Inspire Your Next Architecture Project
Well-constructed canopies create an inviting feeling of protection from harsh elements like sun and rain, while still being able to stand or sit outside. They can also serve to invite pedestrians to enter a building. Finally, beautiful canopies create a unique architectural feature on buildings that create dimension and allure. This post explores 10 unique canopies around the world that promote both function and aesthetic beauty.
This fully tempered glazed structure is perfectly suited for an outdoor mall as it creates a shade and comfort barrier for shoppers and pedestrians while allowing abundant natural light. The design of the structure plays off the outdoor mall concept, with the support posts designed to look reminiscent of massive tree trunks with branches towering high to support the roof.
As if the design wasn't impressive enough, the size is truly incredible. This structure towers over shoppers and stretches 21,260 square feet. To ensure the safety and longevity of the structure, engineers used three primary Novum Systems: Architecturally exposed steel, Free Form, and Edge Clamped Glass.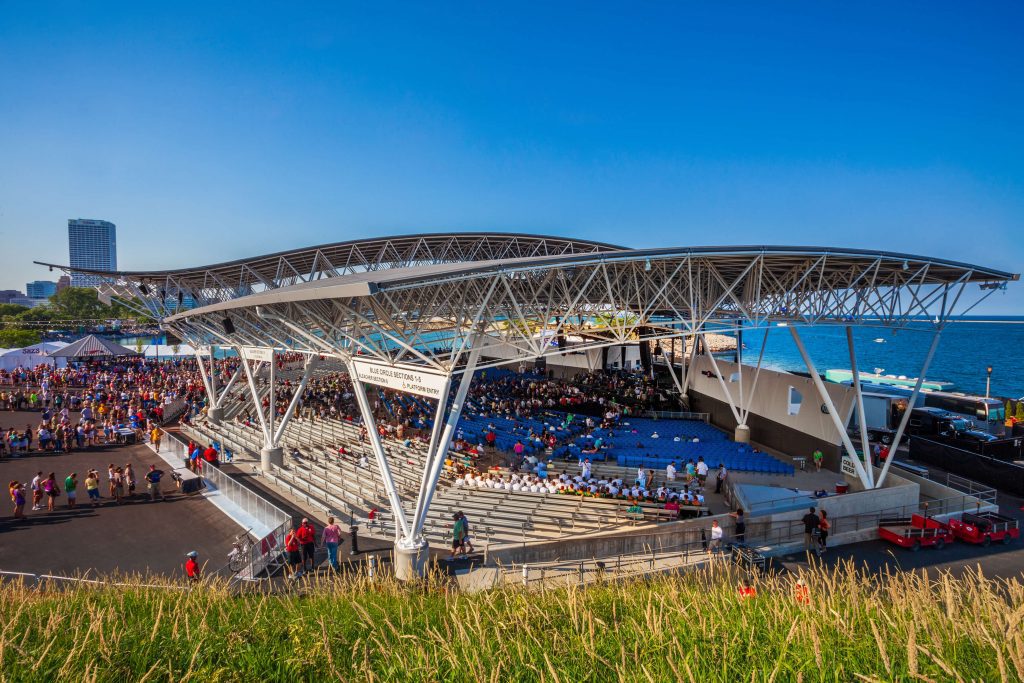 Nestled on the shores of Lake Michigan, the BMO Harris Pavilion is a stunning outdoor pavilion that was created as a concert and event venue. It sits in the Milwaukee Bay and can provide shelter for more than 10,000 attendees. The design of the pavilion mirrors a wave-like structure that feels dramatic and powerful when standing underneath. At 53,000 square feet, the pavilion has successfully sheltered thousands or concert patrons since 2012.
The team that created this pavilion included Epstein Uhen Architects and Novum Structure's Engineering team. The large span system used was the Novum Kugel Knoten System, which is one of Novum's areas of expertise.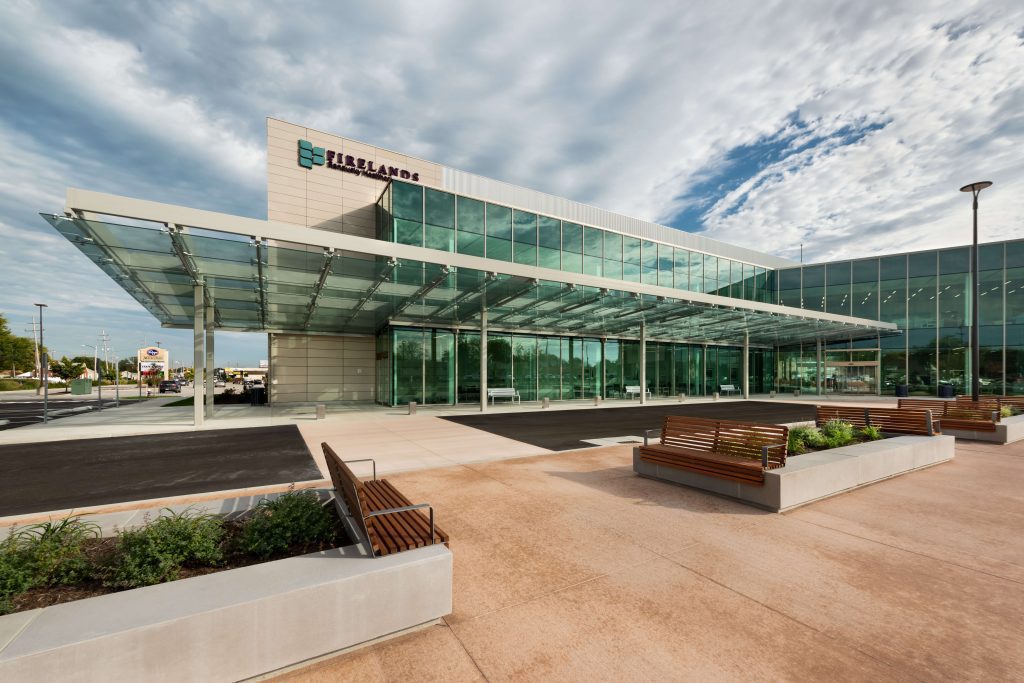 For patients needing ongoing healthcare, entering a building that is beautiful and invites natural light can help alleviate stress. The stunning canopy built at the Firelands Sandusky Healthcare Center does just that. The design implemented Novum's Architecturally Exposed Steel and Point Supported Glass to create a stunning 3,240 square foot canopy.
Regarding Point Supported Glass Systems, Novum notes that: "The PSG-System provides the ability to generate high transparency with minimal support design and has been hugely instrumental in the development of highly technical facades. Novum's fully tested system has been successful in thousands of projects including in high snow, seismic, and hurricane zones."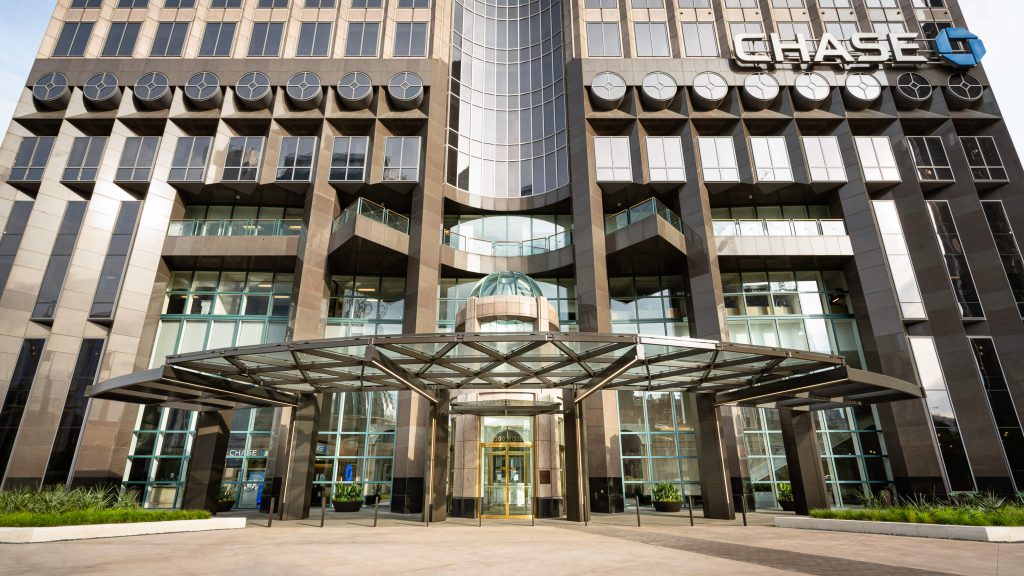 4. Chase Tower: Dallas, Texas, USA
The Chase Tower is a massive skyscraper situated in the Arts District of downtown Dallas. Due to its unique 6-story hole at the top of the building, some Dallas residents refer to it as the "Keyhole Building". Its ornate glass designs and geometric angles stand out from its urban counterparts. The canopy, which sits high above the main entrance, anchors the staggering 55-story building. BOKA Powell was the architect and Turner Construction Company the General Contractor.
The canopy is a two-tiered structure, created utilizing Novum's Free Form, Architecturally Exposed Steel, and Edge Clamped Glass systems.
Novum Structures engineered, fabricated, and installed multiple design components of this luxurious mall including a massive indoor skylight and stunning exterior canopies. The cantilevered undulating canopies hang from the edge wall of the mall podium creating a lovely place for shelter, while not sacrificing any natural light. The wiggling shape guides pedestrians along a path towards different ends of the mall. The glass roof is supported by an entirely steel structure.
This project was a joint effort between Novum Structures and Omerler Architecture. The impressive twin canopies match the ornate aesthetic of the rest of the massive mall. The building is home to 15 movie theaters, countless restaurants, large events such as car shows, and of course most of the world's most high-end stores for shopping.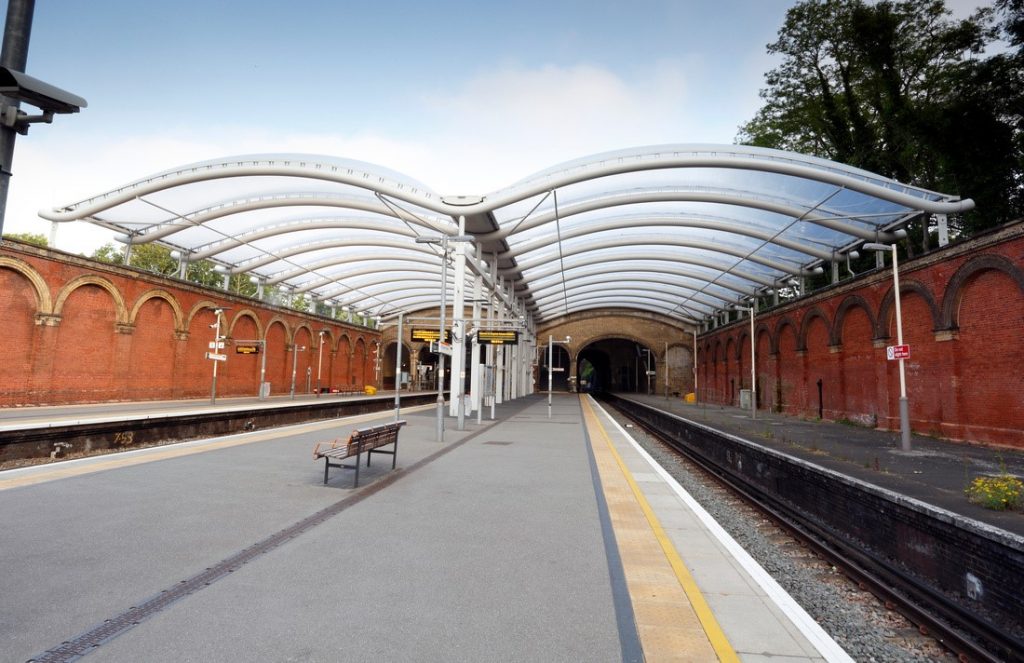 Crystal Palace Station has long since been an iconic stop on London's train route. Frequent travelers on the train are undoubtedly thankful for the canopy that now covers the waiting station, especially during inclement weather.
Novum Structures engineered, fabricated, and installed the canopy which was created by utilizing Novum's Air Filled Pillow ETFE System. This system is known for its versatility in many types of projects. Novum notes it is particularly useful when constructing sports arenas, aquatic facilities, canopies, atriums, planted areas, corrosive environments, and special effect lighting.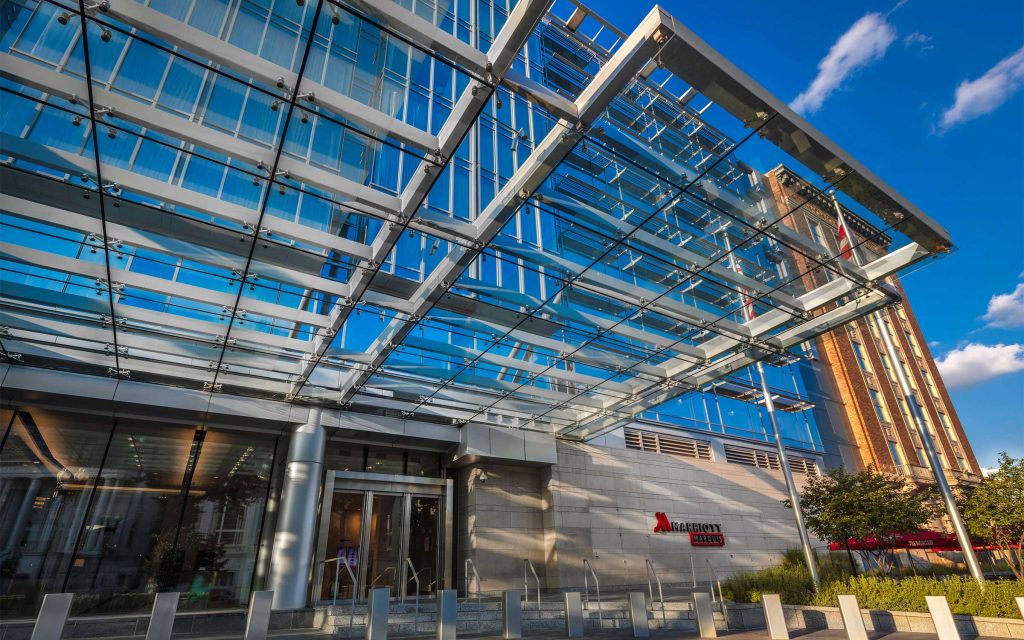 With its location so close to the nation's capital, this project provided design challenges, as the owner desired the exterior canopies to be engineered to withstand a potential bomb blast while providing an elegant and inviting entrance to the hotel. Novum's engineering team used dynamic analyses to ensure that both the steel and glazing could withstand the required loads and Novum's fabrication team created custom tapered steel beams for the primary structural members. The members spanning between the primary structure were connected using Novum's hidden bolted Beam to Beam System, which allowed Novum to create moment-frames to better resist the loads without having exposed connections or field welding. The clear glass appears to float several inches beneath the structure, attached only by stainless steel point supports.
This canopy highlighted the 230,000 square foot atrium, which was recently added onto the existing building. The canopy provides a beautiful, tranquil space for patients coming and going from the hospital. The systems involved include Architecturally Exposed Steel and Point Supported Glass. Advocate Good Shepherd Hospital supports patients across the lifespan with care specialties ranging from cancer care to orthopedics and neuroscience and more.
HOK Architects, Mortenson Construction, and Novum Structures collaborated on this project.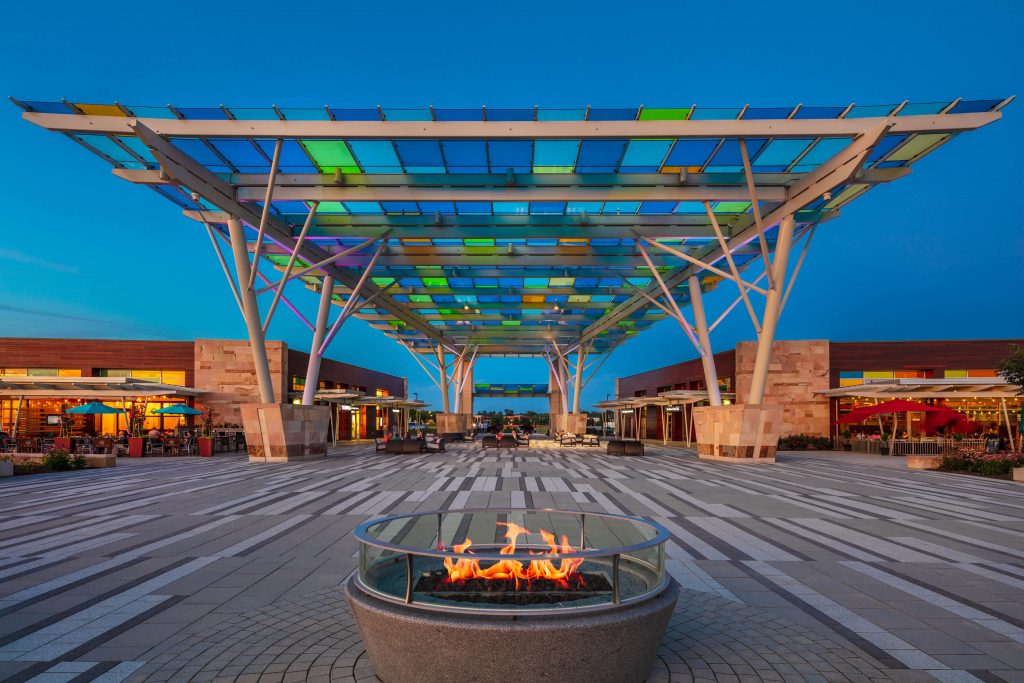 The Summit Park Pavilion is one of many attractions at the City of Blue Ash's 130-acre public park. The pavilion serves multiple purposes including providing shelter from harsh winter weather over a community ice skating rink in the winter. In the summer, the city installs multiple fire pits and seating areas for families to relax.
Two double layered HSS beams run over the main V-shaped columns to create the structure for this wildly unique canopy. Each segment was spliced with a hidden bolted connection, while the V-shape columns and branches shorten the span of the main beam members and the longest spanning purlins for the canopy. Novum Structures enjoyed the unique multicolored glass layout on this canopy which provides beautiful colorful shadows throughout the day. Novum Structures was happy to work with MSA Architects on this project.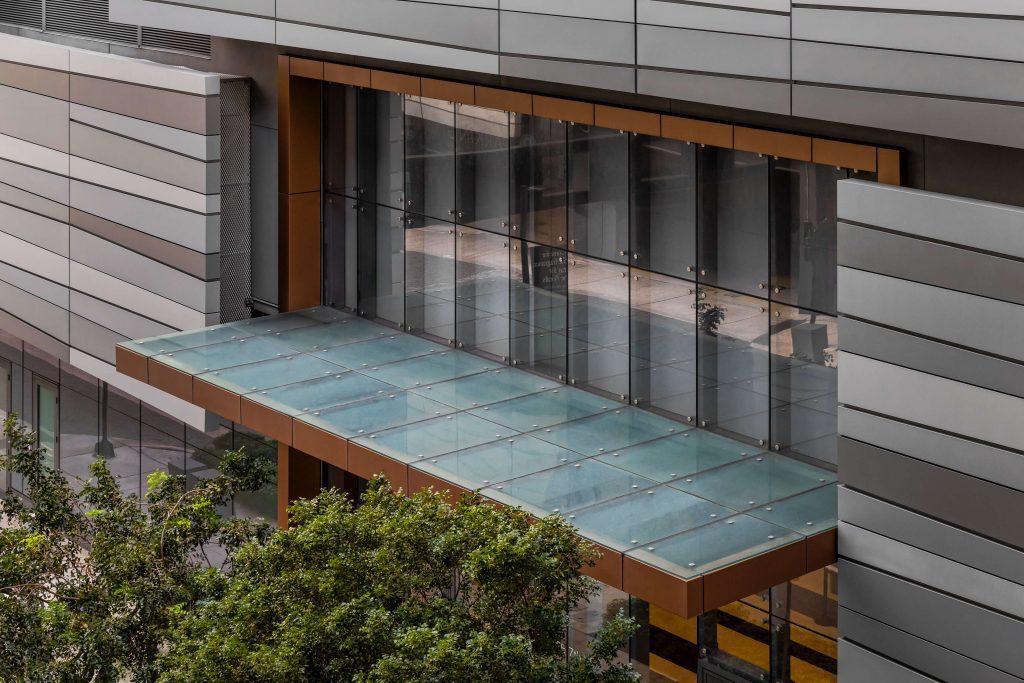 Miami's Brickell City Centre left no stone unturned when creating a comprehensive city attraction. From restaurants to shopping, hotels and apartments, the City Centre's scope is impressive. Equally impressive is the thoughtful design and use of glass throughout the buildings. Novum Structures engineered, fabricated, and installed a large canopy on the City Centre's West Block.
The Canopy is 34'-0" high x 32'-0" wide. Glazing is supported by a steel structure using Novum's Point Supported Glass System (PSG-System). Arquitectonica Architects and Americaribe-Moriarty, JV Construction were the partnering firms on this project.
Conclusion
Canopies can create dimension, shelter, and beauty for large buildings. The list above highlights 10 creative ways to integrate canopies into all sorts of building designs. From hospitals to shopping malls, canopies can be the cherry on top for a well thought out building design. To see more examples of custom-made canopies, as well as skylights, atriums, facades, and other aesthetic design feats, check out Novum Structures projects today.