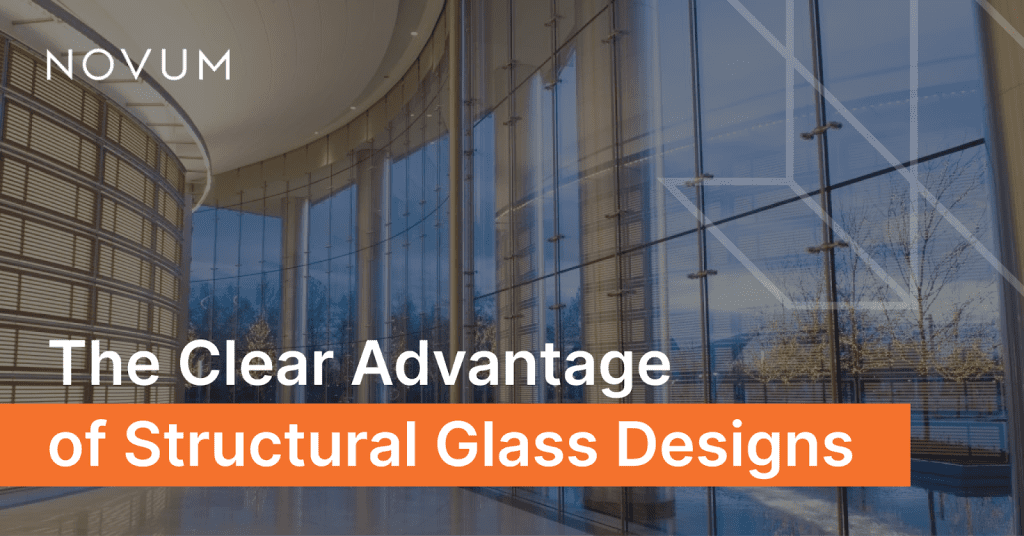 The Clear Advantage of Structural Glass Designs
In order to dive into structural glass systems, first we must discuss what glass structures are. Structural glass, broadly, is glass that takes on a portion of the structure's load. The nature of the load the glass maintains depends on its positioning and purpose; for example, a glass floor is created to withstand people walking across it. In general, structural glass is also "frameless," or without a frame. These frameless glass features can add beauty and complexity to your building design.
This post discusses different structural glass systems and their advantages, structural glass material, and more.
Advantages of an Architectural Glass Structure
Aside from adding flair to your building, architectural glass can enhance the user's experience. For example, the Willis Tower in Chicago has become famous for its glass structures.
Near the top of the tower, there is a transparent, overhanging glass box, termed "the Ledge," where tourists can walk out and look down 1,353 feet. The Ledge was designed by the Willis Tower's original architecture firm, Skidmore, Owings and Merrill (SOM). The feature has become a tourist attraction that lets visitors see the city from a new perspective.
Near the base of the Willis Tower, the entertainment complex features an 85' x 75' curving skylight — engineered, fabricated, and installed by Novum Structures. There's an outdoor patio surrounding the skylight. More importantly, it offers visitors in the complex a spectacular view of the tower and provides vibrant natural lighting.
Beyond their own aesthetic appeal, structural glass designs can transform a space with natural light. Artificial lighting tends to increase a space's temperature and cause eye strain. Natural lighting creates a more comfortable environment for visitors.
The benefits of natural lighting extends past physical. Research indicates that natural light can have a positive impact on individuals' well-being. It contributes to an increased sense of satisfaction and overall mood enhancement.
The integration of structural glass in a building's design offers a blend of sustainability, comfort, and well-being.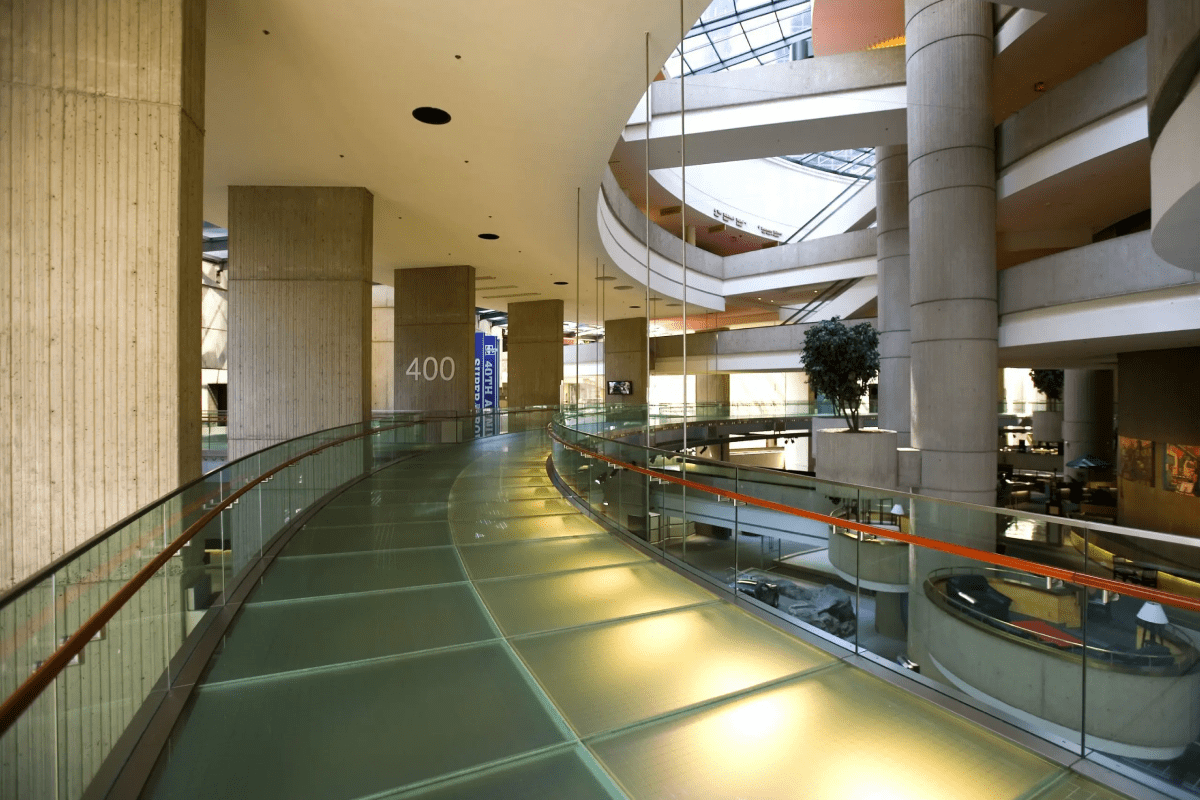 Frameless Structural Glass Materials
SOM's glass ledge at the Chicago Willis Tower has upheld countless visitors. So, what is structural glass made of that makes it so strong? There are actually many different types of structural glass, each with different properties and applications. Below are a few examples.
Sheet glass, for example​​, is manufactured with rollers to have a flat texture and is relatively inexpensive. It is also usually available in a variety of sizes and thicknesses, and a popular choice for greenhouse walls. Insulated glass, as the name implies, is useful for its thermal and sound insulating property. It is manufactured with an enclosed space between two glass frames, filled with argon or air. This space reduces thermal transmittance, or heat spreading. Insulated glass is commonly found in hospitals, hotels, office buildings, and more. 
Body tinted glass is glass colored by metal oxides, turning it blue, green, grey, or bronze. This tinted glass absorbs some solar radiation, therefore reducing your building's incoming heat. This can result in reduced cooling energy costs. Laminated glass is made of two or more glass sheets bonded together with polyvinyl butyral or ionoplast interlayers. The more layers the laminated glass has, the stronger it becomes. 
How Strong is Structural Glass?
Laminated glass is strong enough to withstand a bullet or a rock striking it. Compared to regular glass, it is about 5 times stronger and 100 times stiffer. Laminated glass is also able to survive high winds such as those in a hurricane. Tinted glass, in contrast, is not nearly as strong and is susceptible to breakage from thermal stress. So, in order to prepare it for its common task of absorbing solar radiation, it is often heat treated or laminated. Heat treating involves reheating the formed glass to just under melting point, and then air cooled very slowly to double its strength. 
While different types of glass have different strengths, the overall structural strength depends on the glass's support system in your building. See below for some common architectural glass structures.

Structural Glass Systems
As stated earlier, structural glass is glass that takes on some of the building's structural load. In other words, it is as functional as it is beautiful. Structural glazing is similar: the glass is essential to the building's architecture, but it may or may not be load-bearing. When the glass is load-bearing, it can withstand force horizontally and vertically, and can be attached to the main structure using bolts, hinges, and more. Structural glazing can take the form of sweeping canopies, exterior glass walls, sheer roofs, and more. Below are some common structural glazing systems.
Glass Facade
Glass that surrounds the building's exterior is called a glass facade. Glass facades are totally transparent glass, allowing external viewers to see inside and vice versa. The curtain wall is a kind of glass facade that does not take any of the building's structural load; it only holds its own weight. The structural glazing curtain wall is actually able to transfer the load of wind and gravity to the main building. Face-sealed curtains are held together with sealing between the wall and frame, while water-managed curtain walls incorporate water drains to keep water out of the building. Neither of these options are airtight. The pressure-equalized curtain wall, in contrast, is the strongest option and protects against air and water. 
Glass Fin Walls
The structural fin wall is incredibly transparent, using vertical pieces of glass along one side as a support system. These vertical glass sections, or "fins," are usually hung from the top of the system and span all the way to the bottom. The fins are attached with bolt heads the size of a quarter, and glass joints are attached with silicone to enable movement, while protecting against weather. Because of the way the support system spreads out the load, fin walls can safely rise to high heights without concern of collapse. Even if one fin breaks, the overall wall is still sound.
Glass Walkway
Glass walkways can be internal or external. A famous external example is the "Coiling Dragon Cliff Skywalk" glass bridge wrapping around Tianmen Mountain in China, 4,600 feet high. This walkway was designed by Israeli architect Haim Dotan. External glass walkways often have a slip-resistant finish, for example, the ceramic glass frit pattern. This finish is permanently fused into the glass and helps protect against scratches to the glass as well as adding friction. 
Internally, glass walkways are a striking alternative to dark, closed-up corridors. They are built with a combination of a structural glass floor and a glass balustrade that extends up to form the walkway's walls. These walkways work best when they are elevated within the building, such as in an atrium, and allow walkers to enjoy the experience and view of being suspended.
Cost of Glass Structures
There is no set cost for structural glass projects. Each project has unique needs, which require custom solutions. Our experts can work with your team throughout the process to create a complete system.
Depending on your project's needs, Novum can collaborate to achieve your design intent within well-defined cost parameters. The earlier we become involved in a project's lifecycle, the better Novum's experts can control price.
For example, our Designer Assist process provides feedback throughout conceptualization. Our project expertise allows us to deliver a complete package of engineering, fabrication, supply, and installation. By offering all-inclusive project solutions, we avoid unnecessary value engineering and reduce risk.
Internal or external, decorative or supportive, structural glazing can elevate user experience in your building. Plus, glass walls can cut energy costs for lighting and air conditioning. Whether you're in the planning stage or construction has already begun, our structural glass system experts can help bring your design to fruition. Contact us to work with our team on your project!